Commercial Grasshopper Farming Startup Raises Funds
Now served in restaurants in Tel-Aviv, the grasshopper powder produced by Hargol FoodTech is a pricy treat for those seeking ultra-lean proteins
Now served in choice restaurants in Tel-Aviv, the grasshopper powder produced by Hargol FoodTech, an agricultural startup from Israel's north, is a pricy treat for those seeking the nutritional benefits of ultra-lean proteins.
Soon to come to the U.S. in energy bars and protein shakes, Hargol's commercially farmed grasshoppers are unique in the current global market; while some heavily funded companies based in the U.S. have been able to farm crickets, none have been able to farm grasshoppers—a favorite Mexican dish—in captivity.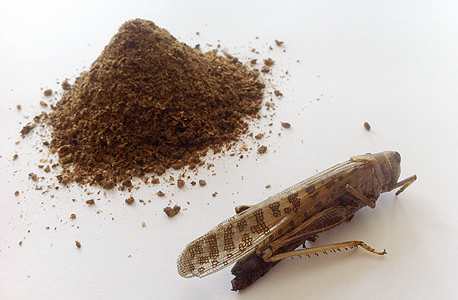 Hargol FoodTech: protein powder produced from grasshoppers
The company raised a 600,000 thousand dollars seed round, according to an announcement published Monday, bringing its overall funding to over a million dollars. Participants in the seed round announced include Singapore-based Sirius Venture Capital and Dutch SLJ Investment Partners.
The company's farm is located in Eliphelet, a rural community located around 20 miles north of the Sea of Galilee. It utilizes grasshoppers tendency to swarm, to enable breeding in commercial quantities.
Founded a year ago the company is part of a global wave of startups seeking cheaper and more efficient – as well as environmentally friendly – ways to manufacture protein substitutes for meat-based protein. Unlike other species raised, grasshoppers are also an accepted food according to Jewish and Muslim religious dietary laws.
Hargol is currently gearing up for its debut on the US market and within several days will begin to sell Americans protein powder, which is used for energy bars, energy drinks for athletes, and as an additive in various manufactured food products. The company's offerings to the American market will also include edible grasshoppers, produced in its Eliphelet farm.